Soy Boy Jack Dorsey has censored James Woods by locking him out of his Twitter account.
Twitter's reason was that Woods had tweeted a funny meme of Democrat beta males staying home in November to "empower" the liberal woman's vote. This was a Tweet from July 20th which had been retweeted thousands, if not millions, of times by other twitter accounts. James Woods was singled out and punished.
See "offensive" tweet Below: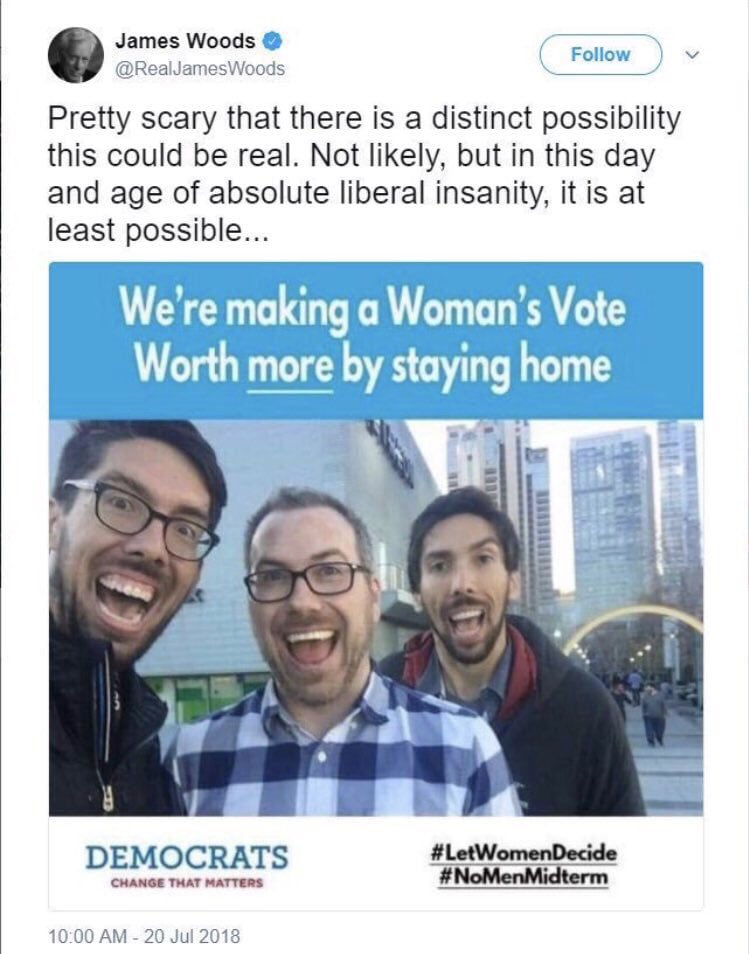 Twitter accused Woods of "affecting" the election. Twitter was really targeting Woods because he is a influential conservative voice and has a large Twitter following.
Definition of Ass Clown: Stupid or contemptible person – A jerk; a buffoon; a person who is inept or ill-behaved to the point of being found laughable!
James Woods responded to the censorship in a AP interview on Sunday: "Free speech is free speech – it's not Jack Dorsey's version of free speech," Woods said, referring to Twitter Chief Executive Jack Dorsey.
"The irony is, Twitter accused me of affecting the political process, when in fact, their banning of me is the truly egregious interference," Woods said. "Because now, having your voice smothered is much more disturbing than having your vocal chords slit. If you want to kill my free speech, man up and slit my throat with a knife, don't smother me with a pillow."
"I wish this were about an unknown Twitter user so that I could be even more passionate about it," Woods said. "This is not about a celebrity being muzzled. This is about an American being silenced – one tweet at a time."
James Woods said Twitter wants him to delete the Tweet and his Twitter account would be unlocked.
Woods said said if he deletes the tweet, it would force him to watch his step with everything he says in the future, chilling free speech. The email Woods received from Twitter said Woods would be suspended from the social media platform permanently if there are repeated abuses.Like James Woods said, America is being silenced, one tweet at a time. –  GrrrTeam Post
Posted with permission from Ben Garrison
---
If you appreciate the what this Ministry is doing to fight the Fake Christians, Satanists, Witches, Communist/Socialist Democrats, RINO Republicans and the assault on our Conservative, True Christian values, please consider a small donation to help us continue and expand. This Ministry is not only under attack by the Secular Scum, we are now under attack from supposed Christians also. It is what Tom Horn calls 'Blood on the Altar"!